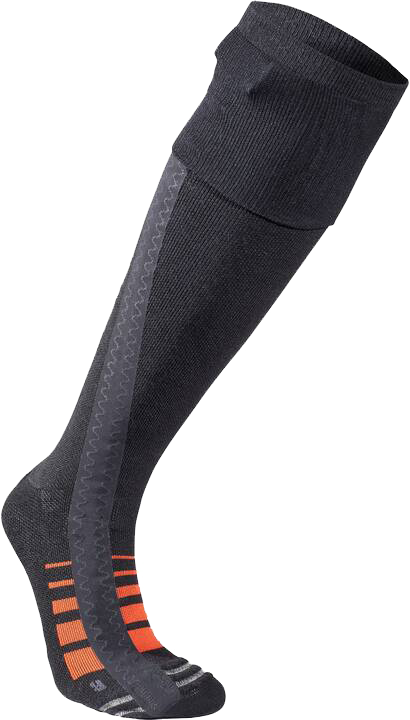 Seger Heated Thin Socks + Powerpack
---
When outdoor adventures are met with below-zero temperatures, your feet require the added protection and warmth to brace the cold. Whether touring through heavy snow or skiing down the slopes, the Seger Heated socks provide heat around the toe zone via a covered battery pac. . .
Read More >
Free shipping on orders over 89.99$. We'll have your order on its way within 48 hours!
Rethinking it? You've got 30 days to send it back, but we're pretty sure you'll keep it! Check out our return policy for more details.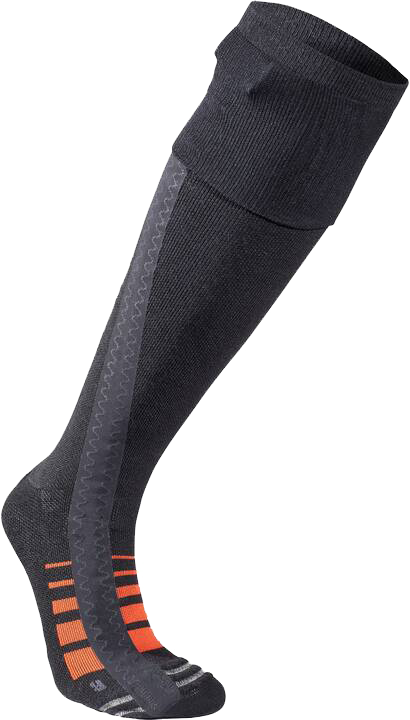 14H
Up to 14 hours of battery life.
Warmth redefined with the Seger heated socks.
Materials
67% Recycled Polyamid
27% Merino Wool
3% Lycra
3% Conductive Materials
Activities
Ski
Snowboard
Ski Touring
Everyday Winter Activities
Sustainability Information
The sock is crafted in a Swedish, fossil-free factory powered entirely by certified wind energy and made of mulesing-free Merino wool and RecoNylon/Polyamides (Reco 100% recycled nylon from industrial textile waste). This method of polyamide production conserves resources, reducing water, chemical, and electricity usage by an average of 89% compared to conventional polyamide production.
Mobile App Features
The app ensures a specific heating duration: simply input the desired heating time, and it'll adjust to the optimal power output, making certain the battery doesn't run out prematurely. Need immediate warmth? The heat boost grants a potent 5-minute warmth surge, ideal for those cold shoes. Moreover, an innovative motion control feature dynamically adjusts heat based on activity: it ramps up warmth during moments of stillness and scales it back when in motion.
This product is rated 5.0 of 5.0 stars.
It has received 1 review.
Seger socks 🔥👍🏻
I bought these with the black Friday discount as my advanced Xmas present and immediately tried them out in case I needed to return within the 30 day window.. I don't need to return - THEY'RE GREAT! I have rayneuds in my hands and feet winter walking and xc skiing can be painful.
The heat of these is perfectly positioned and wraps the toes and ball of foot. The toe bed felt plasticy putting on but doesn't when wearing.
The power pack is quick to charge and easy to attach. It looks more subtle in pictures but it is large.. I haven't seen smaller in other brands I've tried on like Lenz. Can use phone app or buttons on power pack... you can even set the power pack to vibrate when your phone rings 😂
The materials blend (with decent percentage merino) and sustainability of manufacture matter to me - was happy to read up on their Swedish manufacture process in wind powered plant!
These will be multi day per week wear this winter. Would like to see Auclair sell just the sock without the power pack so I could get additional pairs AND with the different thickness.. this is available but only in Europe. that i can find. I purchased the thin but would also purchase the thick - different days, different ski boots ❄️
I will definitely update my review as winter rolls along if I become more or less thrilled... they are an investment but winter is long and I want to be out in it!